I find for the most part, women's general response to Boudoir Photography to go one of two ways.  Either your met with someone who is pro-boudoir OR you hear… Reeeally??  As in the slightly high pitched judgey, why would you make a porn star out of yourself kind of tone.  There in, in my opinion, lays the crux of the matter.  Good Boudoir Photography is more of an art form, more about composition, then it is about being naked.  When your looking at really well done boudoir, you practically forget that the woman has little to no clothes on.  Its not about that.  Its about the shot, the lighting, the moment as well as the celebration of the woman.
Where I think the judgey Reeeally?? comes from is the general lack of exposure to most women, to true boudoir.  Think about it, unless it is something your actively pursuing, tracking down, where exactly are you viewing women in a more intimate setting?  Of course there is porn, which has about a bagillion stigmas run along with that, or Men's magazines who's soul goal in photographing women is the equivalent of soft porn, albeit some better then others.  Not to quote Tyra Banks or anything, but she truly has a point when coaching her models-to-be on ANTM.  There are subtle differences in the positioning of one's body.  Booty out, Men's Magazine, booty in and rounded, soft sexy smooth lines.  Same thing when it comes to our chest.  Point being its a combination of things that make it essentially the complete opposite of porn, which lets be honest, thats basically what the Reeeally?? folks default to.
Now, dont get me wrong, there is good Boudoir and there is everyone else.  Everyone else is those that do indeed take it too far and it does cross into the pornish line.  Too aggressive in posing, too scantily cladesque outfits. (*Clothing selection is actually a very important factor in great boudoir) To the glamour  shot wanna be's that ultimately end up with women who dont quite know what to do with themselves, stuck on a giant sheet of paper, wrapped in a feather boa trying to imitate sexy.  Which actually brings me to my next point ladies, by nature, women ARE sexy.  Thats how we are built, thats how God made us.  Just by being a woman, you are sexy.  The moment you actually realize that, the more amazing it will all be.  Its the 'try' that lets you down.
I'll be very honest, I have done it myself, as a gift for hubby.  I had recently gotten back into running, ok who am I kidding, the threat of the wedding dress scared be back into running, and was feeling my body again, so I had the comfort, for myself, to do something like this.  I have in the past, toyed with modelling a bit, but never like this.  The idea of being in my undies around someone wasnt a big issue for me, but being topless or eek pure nakedness…well that wasnt for me….  Turns out it was, haha!  I swear it felt about 8 seconds into my shoot and Sarah already had me naked.  At the time, I was definitely a bit nerve racked, but at the end of the day, I knew that I trusted my photographer (another super important detail), her eye, and how she made her art.  I knew I wasnt going to end up looking like a porn star.  And guess what, not only did I not look like a porn star, the images were amazing.  Even my lil sis who ew'd herself at first while looking at the book, quickly shut up and commented about how amazing they were.  She still maintains at the end of the day that she didnt need to see me naked (and I expect a comment as such here, haha) but she truly did appreciate how much like art they were and came no where near being even remotely soft porn.  While I would love to share some of these amazing images (PS-One has snuck out onto Junebug), I am on husband locked down when it comes to these, but I digress.
My feature today, now well buried below the fold (on purpose), is a sweet simple boudoir shoot from Frame 36 Photography.  What I love about it is how simple and exact it is.  Perfectly chosen black & whites, playful yet sexy poses, artful angles with choice focus and depth of field, lovely  lighting, delicate attire, and a simple comfortable room.  These images allow you to appreciate the beauty of our lovely lady, celebrate her feminism, while somehow yet still keeping her pure.  I hope this serves as a gateway to remove the stigma that has been placed on boudoir by other more, drastic things.  I will continue, when I find the right shoots, to showcase boudoir, as I truly do love it and it can be ever so amazing.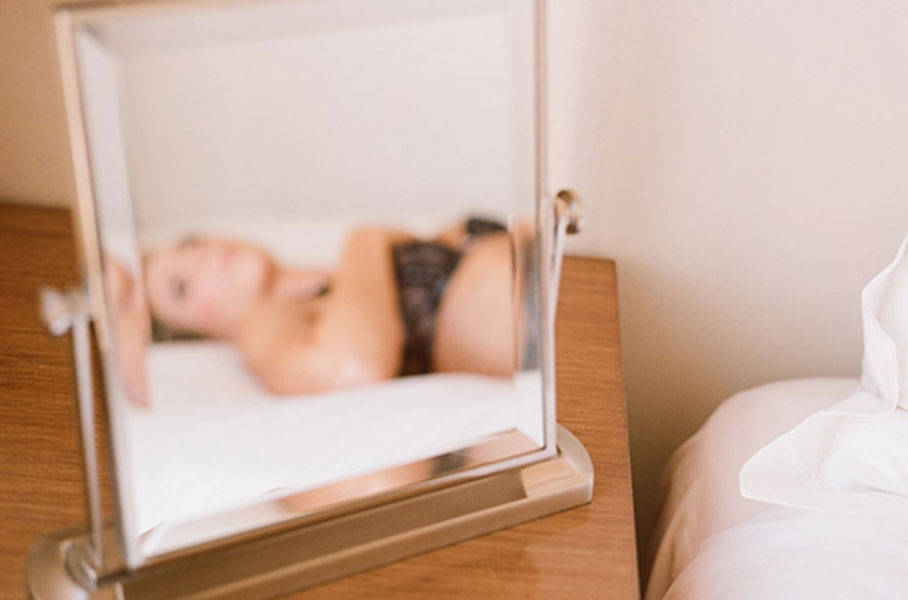 Vendor Love
Makeup Artist: LunaBella Make up and Hair
Photographer: Frame 36 Photography